Anita Elder – OPA
is a diverse artist from Northeast Georgia, and her principal art medium is working in Oil and Watercolor. Anita believes in painting directly from nature whenever possible, and carries her paints and canvases as she travels to interpret the environment as it is presented. By taking advantage of these natural moments, she finds that intensity and emotion flow from the subjects, allowing her to better impart the same in her art.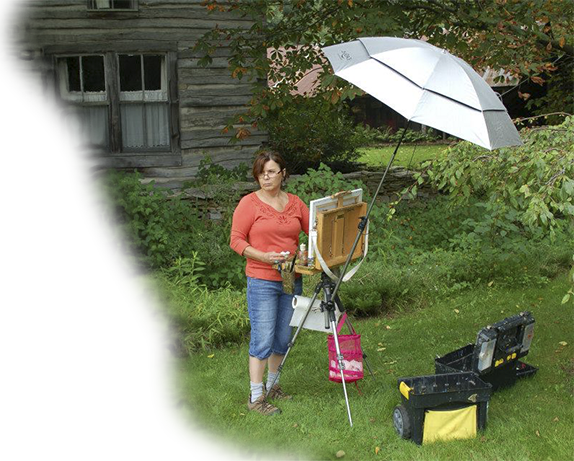 Anita feels privileged to live in the north Georgia Mountains, as it presents her with an abundance of opportunity to find the subjects that are the center of her painting. She doesn't have to travel far, as often times the focus of her passion is right outside her door. After living in the North Georgia Mountains for over 30 years, she has grown a kinship to the varied subjects of her art; her favorites being mountain scenery, rivers and creeks, and old standing farmstead with the many creatures and fauna that often inhabit the structures. By intellectually assimilating the ordinary and then creating an iconic image of the subject; she seeks to provide the viewer with a unique perspective and in turn make them more observant of the past, present and surrounding environment.
 As a great admirer of the culture of fine art, Anita has taught art on a weekly basis for years and loves bringing her fellow artist together for a creative, learning and fellowship experience. This has also motivated her to establish a working studio, the Art Loft, a venue for artists to come together in a community of creative thought, knowledge, and companionship. Anita feels art is a passion that should be shared with the world.